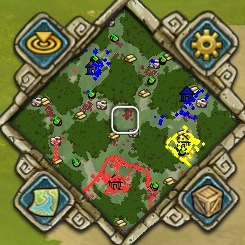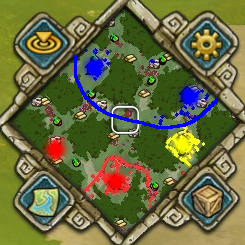 Greeks
Red = Somatophylax Commander Matius's Army
Yellow = Mycenaen Army
Celts
Blue = Fehx de Pon's Nomads
Blue Line = Fehx de Pon's Territory Line

oslo

Forumer







Bloodtrailkiller

Board Moderator





Location

: Donderost, Norstros



Commander Matius located Fehx de Pon's forces camped out in a nearby expanse of forest. Believing that Fehx de Pon was hiding among the Celts there, Matius mustered a small army to keep tabs on the Celts. The Mycenaen outpost was manned and garrisoned, but soon came under attack by Celtic forces. Rallying his troops, Commander Matius hastily built a large base and went out to combat Fehx de Pon. Unfortunately, Fehx de Pon fled the area before Matius could break through the lines. And even then, the Mycenaen army was too weak in order to launch an offensive through the Celtic-controlled forest. Matius was delayed by the strong Celtic defenses for several weeks, before finally managing to overcome the defenders and punch through the forest. However, Fehx de Pon's trail was cold, and Matius returned to Mycenae in shame and defeat.
Result: Celtic Victory
Greek Casualties: 460 Combatants, 40 Non-Combatants

Celtic Casualties: Estimated 300 Combatants, 100 Non-Combatants

oslo

Forumer






Fehx de Pon wrote:/stillfeelterribleaboutragequitting
No worries. My friend regrets going to me for help against you, too.
Called himself "a royal dumbass", he did.

oslo

Forumer








Similar topics
---
Permissions in this forum:
You
cannot
reply to topics in this forum