Could turn out into a full-fledged rp if a decent amount of people are interested, but I doubt it. Mostly looking for say 3-4 people total to create a quality mini-plot role-play. Plot dooesn't have to be all that dynamic as the RP will focus more on character development and relationships (No orgies, more friendship/brotherhood type thing).

Keval

Lurker





Location

: Nowhere



I was thinking of a unique environment-based Role-Play. An outer rim territory after the republic fell into the Empire in 19 BBY is filled with chaos and conflict. Individual city-states rose along with pther independent factions who fight for control of the planet. Due to the volatile hostility of the planet, the Empire has left it alone to determine it's fate, similar to Daan.

Nerd reporting in as ordered, Field Marshal.
Planet (Kormuun):
Once a central hub of economic and commercial activity, the great world of Kormuun held it's ground for more than a millennium, the lone beacon of hope in the Outer Rim Territories. However, the world fell victim to one too many faux leaders promising greatness and renown. Termina, the capitol and one of the world's few space ports, plunged into chaos. Rebellions and riots erupted in the blood-stained streets and towering skyscrapers worthy of any god were crippled. Ignored by the Galactic Empire and the Rebel Alliance alike, Kormuun became a beautiful wasteland. The heavy rainforests once dominated by flora and fauna now hid several resistance bases and looter camps. The open green fields where huge mammals grazed were now killing fields. Smaller towns and cities banded together into city-states as other Independent factions claiming to be the true heirs to the throne of Kormuun arose. A shell of it's former glory, Kormuun desires an end to the civil war that will claim thousands, even millions, of lives.



(Feel free to edit.)

Keval

Lurker





Location

: Nowhere



It pains me to say that I made this...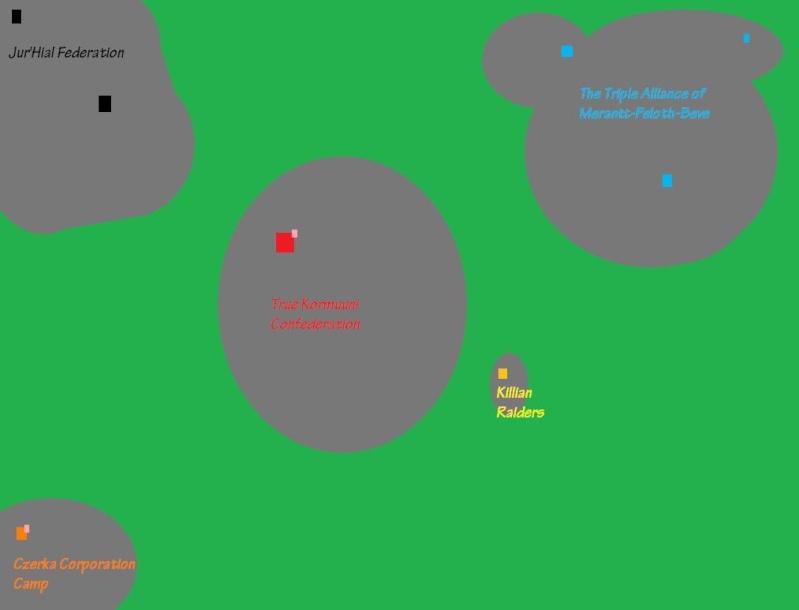 Colored squares are cities/settlements/camps, ones with the pink square indicates a space port of some kind is present, the Kormuuni Confederation obviously having an established port as the Czerka one consists of a landing pad mostly.
Grey spheres/blobs are territory and influence.
All names and/or territories are subject to change.
Also, after further study, I found that Czerka Corporation was actually renamed to Czerka Arms during the Galactic Civil War era.

Keval

Lurker





Location

: Nowhere



Once a central hub of economic and commercial activity, the great world of Kormuun held it's ground for more than a millennium, the lone beacon of hope in the Outer Rim Territories. However, the world fell victim to one too many faux leaders promising greatness and renown. Termina, the capitol and one of the world's few space ports, plunged into chaos. Rebellions and riots erupted in the blood-stained streets and towering skyscrapers worthy of any god were crippled. 
Ignored by the Galactic Empire and the Rebel Alliance alike, Kormuun became a beautiful wasteland. The heavy rainforests once dominated by flora and fauna now hid several resistance bases and looter camps. The open green fields where huge mammals grazed were now killing fields. Smaller towns and cities banded together into city-states as other Independent factions claiming to be the true heirs to the throne of Kormuun arose. Crime syndicates such as the Zann Consortium have risen on Kormuun, battling for control against a smaller Hutt presence. Even core world organizations like Czerka Arms have been seen on the plains. A shell of it's former glory, Kormuun desires an end to the civil war that will claim thousands, even millions, of lives.




CS~
Name:
Age:
Gender:
Race:
Equipment:
Weapons:
Appearance:
Bio(Optional):

Keval

Lurker





Location

: Nowhere





Similar topics
---
Permissions in this forum:
You
cannot
reply to topics in this forum