Bloodtrailkiller

Board Moderator





Location

: Donderost, Norstros




Keval

Lurker





Location

: Nowhere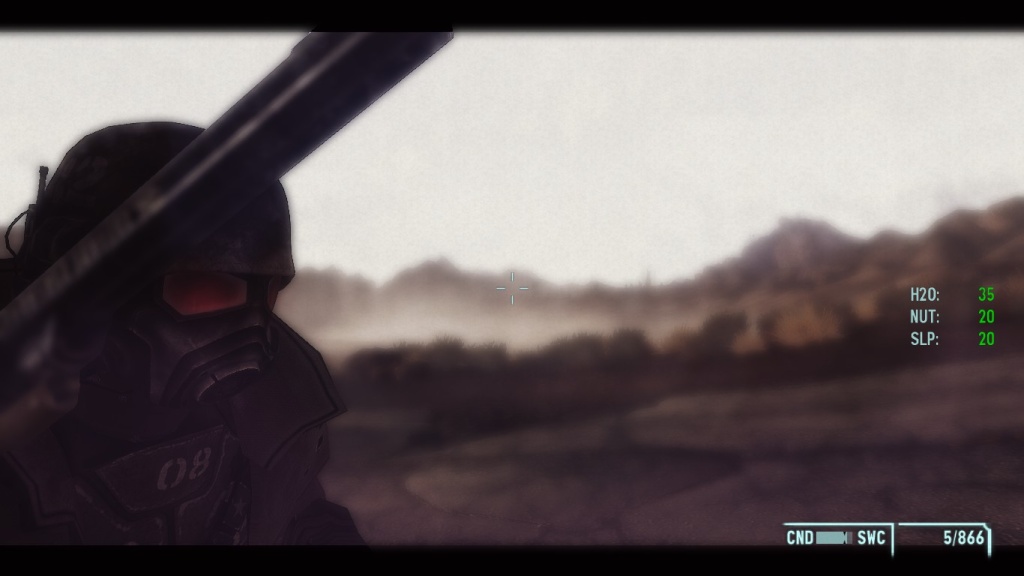 Meet Grym Leftwood
Playing as a sort of Psychopath; Grym kills anyone who talks to him, and he cannot use stimpacks; having to rely on sleeping or the offhand bloodpack.
Until he gets Solar Powered, at least.
He also refuses to eat anything but things he himself cooks, or purified water.
In the buff side.
He is naturally skilled in shooting, taking care of himself, and taking care of things he owns.
...Naturally skilled in shooting is putting it lightly; he starts with, about, 75 points in guns.
Although, in everything else, he's less than examplary. Some, such as speech, barter, and lockpicking are down to 1-5 skill points.
He is, surprisingly, very resistant to bullets... for some reason.
That one I can't figure out; he just kinda... shrugs'em off.
Trust me; I intended a sort of glass-cannon playthrough, but being a tank in all aspects helps as well.
Oh! And he only uses his Signature Ranger Seqoia/scopeless Hunting Revolver and his Trail Carabine.
It's been rather fun walking through places and running into people who start a conversation; end it with 'Goodbye' and blast everyone in the immediate vicinity to smithereens.
I feel that I'm going to run into issues with The Legion; as when I went into Nipton, I had to actually use skill to kill them.
Did I mention he doesn't have a pip-boy glove, so he can't use V.A.T.S.?
Yeah, he can't use VATS. Which is rather problematic when your handling NOT-getting-your-guts-ripped-out-by-machetes-and/or-hand-chainsaws while dodging some less than satisfactory 7.62mm and .308 rifles...
The image was me heading into Nipton
And this is me leaving Nipton after having issues with some seriously OP Viper Gang people...
I do need to go through my mods and fix a few since my nightvision, thermal, and EM visions are not working.
Now you may say 'BUT BTK! DAS CHEATIN!'
How now, brown cow, This screenie is at dusk.
THIS
IS HOW DARK IT IS
AT DUSK
...
I FUCKING NEED MY NIGHTVISION
Oh, and about the ammo...
...No idea, to be honest; I sold it, dropped it, stuffed it in some box on the road; it won't stop being so damn high.
So yeah, I guess, as his signature weapon, he never runs out of ammo(Hopefully) as per Hollywood style.
And trust me; it's alot harder than you'd think having to kill everyone who runs up to you or even says a humble word such as 'Hello!' or 'Save me!' or 'Welcome to my shop!'
Why? Because everyone likes to shoot the person who shot a guy for making noise...
And yes, it is kind of hard trying to live as a noise-sensitive psychopath when everyone who is NOT a noise-sensitive psychopath tries to kill you...
BULLETS
EVERYWHERE
FROM EVERYONE.
EVVVERYOOOOOOOONE.

Bloodtrailkiller

Board Moderator





Location

: Donderost, Norstros




---
Permissions in this forum:
You
cannot
reply to topics in this forum