Name: Chimera
Homeworld: Chloemerit, Fildervee Solar System

Physical Appearance: Chimera Pure forms come in 3 different appearances;

1. Angels are squid-like beings, standing at 20 feet tall, with around 4 tentacle-like arms and a shell spanning around their vital organs and brain. They receive their name from their ability to float, which is most likely caused by the exhaust that is vented out of the cooling apparatuses attached to their backs. Angels are the only Chimera that do not fight. Angels are usually seen inside giant Chimerian Towers, where several of them band together telepathically and control the Hive Mind in a small area, perhaps for meters, or miles.

2. Widowmakers are colossal beings, standing at 20-25 feet tall. The Widowmakers are distinctively known for their Arachnid body structure. They have 4 15-20 foot legs, which host a armored body. Under the body, 4 small spike-like arms can be seen, and their mouths host large carnivorous teeth. Widowmakers are rare sights on the battlefield, but when seen by Chimerian forces it gives them a "Rallying Effect".

3. Hardfangs are medium sized beings, and unlike their cousins, stand at 6.5 feet on average. Hardfangs can be singled out not only because of their smaller size, but their humanoid/reptilian body structure. Hardfangs are fearless and aggressive soldiers, which will charge any numbers of enemies fearlessly at almost any distance. Hardfangs, like Widowmakers, host carnivorous teeth. Hardfangs usually consume their own dead or wounded, regardless of rank.

There are several more strains of Chimera, which were sentient beings converted by the Chimera into forms of soldiers or workers.

Personality: Aggressive, Angered easily, Intolerant, Violent, and Cruel.
Sentience: Animal-like nature, Human-like innovation
Average life span: Chimerian Pure Form: 60-90 Years. Converted Chimerians: 6 Months-5 Years.

History: The Chimera were born into a Solar System filled with chaos on their homeplanet, Chloemerit. Chimerians started off as several divided nations, warring with each other on and off. During these times, a group of Angels created a creature known as the Crawler; the birth to the Chimerian Virus. Compared to other worlds filled with sentient beings, the Chimera evolved slowly, as they fought each other frequently. During the time, the planet had no official name. Nations named the planet after themselves, and fought for that name only.

During what the Chimerians called the 1st Age of Reclaiming, the nations of Chloemerit dominated the whole planet and united all the nations. During that time, different beings from different planets attempted to conquer the Chimera, but ultimately fell to the Chimerian Virus. During that time Angels experimented with how to make bodies that were similar to Chimera and had similar builds, but could work efficiently. During that time the Chimera had captured Enemy Space-ships, using them to bring the virus to other planets.

Within 12 years, the Chimera had infected and wiped 8 species out from the galaxy. The Chimera however have lost all space-going technology, but control immerse fleets of Airships which dominate the skies of Chimerian-held planets. Large gatherings of Angels allow for them to talk telepathically from planet to planet.

The Chimerians have now entered the 2nd Age of Reclaiming, as they build massive structures on the planets they conquered and keeps Infected Chimerian in line from rebelling.

Other Info: Chimerian are savage in nature. They do not ally. They destroy and consume.

Guest

Guest





Timeline:
2525-2552: Human-Covenant War erupts. Hundreds of colonies are lost and over 20 billion humans die. Earth and around 20 sparsely populated colonies remain from the massive genocide.

2553: A Battle Fleet of 40 Cruisers come into orbit over Earth. The forces recognize themselves as the Helghast, and they had a simple demand; allow the Helghast land on Earth. It was granted almost immediately, and Helghast troops began landing in Patra, Greece to set up their colony. The Helghast ordered the UNSC remove their citizens, and when the UNSC refused to, 14,000 unarmed civilians were murdered. The Helghast quickly took over a large portion of the island part of Greece, turning it into an impregnable fortress. Tensions were incredibly high and the UNSC called forth it's battered and exhausted armed forces. Barely 10,000 men and women were battle ready, facing battle-hardened elite soldiers who would die for their cause. An assault was called off.

2554-2556: The Helghast construct a huge 100 foot tall solid titanium wall that separates their country, Darkona, from the rest of the planet.

2559: Lieutenant General Maedric Jurg arrives on planet to take control of the military situation for the Helghast. Negotiations that were starting to get fruitful immediately stopped, and the Helghast ambassadors shot by the General himself.

2560: The colony of Mars goes silent in April. The UNSC send an ONI Prowler to investigate, but when contact is lost with it, people began assuming the Helghast. 2 months later in June, 8 massive unknown ships come out of wormholes over orbit on Earth. They immediately launch transports and attack major civilian centers with brutal and cunning alien-like troops. The Human Race is at war once again. When an attempted attack on Darkona fails, the Helghast declare war. Their massive fleet of 40 cruisers attacks and annihilates the 8 alien ships in a matter of minutes. What they didn't know was that the ships were completely empty, all the troops and equipment off-loaded in such a short time.

2561: Heavy fighting in North America continues as a Helghast expeditionary force 140,000 strong lands to fight the enemy, now dubbed Chimera. Operation Bay is launched with a combined force of UNSC and Helghast troops attacking the heavily defended North American East Coast.
Helghast Character Sheet:
Name:
Age:
Gender:
Physical Appearance: (Must abide but what Helghast look like.)
Rank:
Clothing/Armor Appearance:
Soldier Variant:
Weapons:
Equipment:
Biography:
Other:
UNSC CS:
Designation: (If your character has one.)
Name: Trebon Gratius
Age: 32
Gender: M
Physical Appearance: Trebon is a Caucasian human male of good health. He has a decent build, but is certainly not the strongest fellow in his unit. He stands at a fair height of 5'9. His skin color is a pale white, albeit not as pale as a spartan. His hair color is dark black, which is usually cut short. The only facial hair he keeps is a stubble around his chin. His cheekbones are fairly high, and gaunt. Since firestorm however, he has noticeably aged, albeit he still remains young.
Armor Appearance: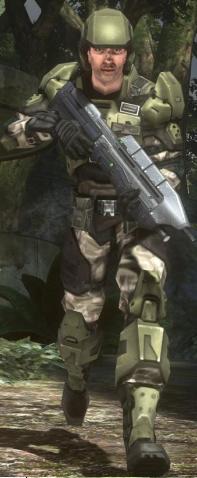 Rank: Captain
Weapons: M6D pistol, combat knife, and a BR55 battle rifle.
Equipment: 3 frag grenades, extra magazines, and 1 smoke grenade.
Biography: After Firestorm Trebon was assigned to the first elite shock battalion. He had served in the battle of installation 00, otherwise known as the Ark. Afterwards he returned to Earth. When he Helghast arrived he was one of the 10,000 who became battle ready. After it was called off he joined the joint Helghast-UNSC to fight the Chimera.
Extra:

Guest

Guest





UNSC CS:
Designation: (If your character has one.)
Name:
Age:
Gender:
Physical Appearance:
Rank:
Weapons:
Equipment:
Biography:
Extra:

Guest

Guest






Keval

Lurker





Location

: Nowhere




---
Permissions in this forum:
You
cannot
reply to topics in this forum